This post contains affiliate links from which I may make a commission. All opinions are my own. If you'd like more information you can contact me via the Contact page, a link to which is at the bottom of this page in the footer.
Also known as the curling stone walk, this loop in the Dailly countryside follows the course of the Lindsayston Burn through quirky woodland and a tricky area of felled trees before returning to the start via quiet country roads. Enjoy views as far as Ailsa Craig on a clear day, as well as across the farmland towards the ruins of the impressive Dalquharran Castle. Note that one short section of Linfern Road is prone to flooding but is still passable with care.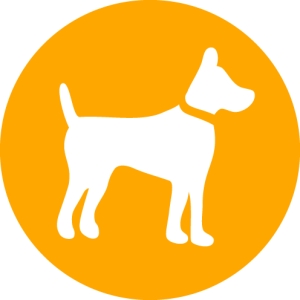 Dog-friendly walk (one stile)
  Small car park next to play area, The Loaning, Dailly (KA26 9SX). Closest train station is in Girvan, 6 miles away. From there you can travel by bus to Dailly and stop on The Loaning/Victoria Crescent at walk start point.
Route: From the parking area turn right onto The Loaning and cross B741 towards Dailly cemetery. Follow the wide track to the right of the cemetery and at a fork keep left, following the direction indicated by the curling stone way-marker. Cross the stile and continue along the woodland path high above the Lindsayston Burn to reach an area of cleared trees. At this point the path becomes very vague, winding it's way between the tree stumps ans over uneven ground. After approx 0.3 miles look out for a wooden way marker which indicates a right turn up the hillside. Follow the direction of the arrow to the top of the hill where you will emerge onto a wide gravel track. Turn left and continue to reach a minor road at Lindsayston Farm. Turn left here and after 0.4 miles at a wooden way marker turn left down a woodland footpath past a couple of ruins and continuing onto Linfern Road. As you approach Balcamie Farm keep right to continue on Linfern Road all the way down to B741. Cross over and turn left. At the cemetery turn right to return to the parking area on The Loaning.
Use this website often? I invite you to support my work through Patreon or by making a one-off donation.
---
WALK REPORT: 29th October 2017
"We are coming to Ayrshire in October, maybe we could meet up and you could take us one of your walks?" I couldn't remember the last time I had seen my friend Kirsty, never mind her husband and daughter. We had been good friends at uni but had found it difficult to arrange regular meet ups since they moved down to Lancashire 5 years ago. And they were coming to Ayrshire, I was delighted! A walk?! Even more delighted! I picked out a couple which were suitable lengths for 3 young kids and close to where they would be staying. The first was a walk I already knew and loved: the Lady Hunter Blair walk in Straiton and the second – the Lindsayston Walk – would be new to me but sounded nice from what I had read on the Ayrshire Paths website and was only a short drive from their accommodation. As you are reading this report there is no need for me to tell you which one was chosen 🙂 Always keen to explore new places I was excited to see what Dailly had to offer!
The woodland walk along the Lindsayston Burn could do with a bit of TLC. We came across fallen trees and branches across the path, broken bridges and so on. One tree even had the word DANGER painted on it 😮 It didn't feel particularly dangerous to be honest, just a little unloved. Very pretty though, and coming slightly off the path the kids and dads had fun playing down by the burn at a lovely waterfall for a while. Things really started to get interesting when we emerged from the woods onto an area of felled trees…. The path became difficult to follow and the ground extremely uneven. It didn't bother me but I did wonder what my friends were making of the whole thing! We had to lift the kids over a few ditches and lost our way at one point, scrambling over tree trunks and roots. From the map I can see now where we went wrong and as long as you follow the way-marker uphill you won't make the same mistake. There is no path here though so you just have to trust that it is pointing you in the right direction. At the top of the hill there is a nice gravel track waiting for you!
At lot of fun was had trying to capture a photo of us all using my camera's self timer at lunch. We made use of the tree stumps as seats and I walked up the hill a little to get a good position to shoot from. With only 10 seconds to dash between camera and group pose and with bits of tree lying all over the place, it was tight, and the first few attempts didn't work out, causing much hilarity! My husband had more luck and we finally managed to get the shot. By which time the kids were fed up and no longer smiling :-/
The views opened up immediately on reaching the road and I was amazed to be able to see Ailsa Craig, which I mistook for a mountain at first, such was the size of it!
The remainder of the walk was easy-going with beautiful views across the Ayrshire farmland as we headed back down into Dailly. There was one final obstacle to come though: a flood on the road. With difficulty I managed to tip-toe sideways along the grass verge, my butt being jagged by brambles several times en route. Fortunately John had chosen to wear wellies, which at the start of the day I had thought to be overkill, but turned out to be a saviour as he was able to carry the kids (and his wife!) over it.
On returning to the parking area the kids had a great time at the adjacent play park. I have learned that when out a walk with kids it is always good to have something like a play area (and/or sweeties) to encourage (bribe) them to keep going…. 😉
Be sure to check out my other routes in South Ayrshire
Use this website often? I invite you to support my work through Patreon or by making a one-off donation.