This post contains affiliate links from which I may make a commission. All opinions are my own. If you'd like more information you can contact me via the Contact page, a link to which is at the bottom of this page in the footer.
Depending where exactly in Blairadam you are walking, you might either be in Fife or in Perth & Kinross! This walk covers the south-eastern edge of the forest, beginning at a small car park just off the B914 next to Kelty. It takes you deep into the forest with the path initially running parallel to the M90 before heading to higher ground from where you can enjoy fabulous views North to Loch Leven. The route then loops back to the start via Clentry, a cluster of farm cottages. Perhaps you will catch a glimpse of the fabled 'Beast of Blairadam' during your visit 😮
Buggy-friendly (firm but uneven gravel surface and some uphill sections)
Dog-friendly (Dogs can safely be off-lead until the final half mile when you reach the farms at Clentry where there are horses in the fields and then a minor road to return to the car park)
  Car park just off B914, close to junction 4 of M90 (nearest post code KY4 0JQ). No public transport to start point.
Route: From the parking area take the footpath signposted 'Kelty via M90 footbridge'. After an initial short section across open grassy land, the path enters the forest. Continue straight ahead at a crossroads before crossing Drumnagoil Burn via the wooden footbridge. Keep right at a fork and the end of the path turn right again, continuing past the totem pole. At a small 'roundabout' go through the green gates and continue straight ahead at the next crossroads. Keep right at a fork then follow this track as it winds uphill. Turn left at the crossroads onto 'The Brick Road' then first right to cross Pieries Burn followed by Kelty Burn. Turn left at the end of the track then first right towards an area of felled trees. At the gate turn left along a gravel track towards the farm cottages of Clentry. On reaching a tarmac road turn right and follow it back to the parking area where you started the walk.
Use this website often? I invite you to support my work through Patreon or by making a one-off donation.
---
WALK REVIEW: 28th April 2017
Bodhi, my friend's golden retriever, LOVED this walk since he could be off his lead for the vast majority of the 4 miles. It would be a great walk with a buggy as well, so long as you don't mind some uphill pushing and gravel tracks. Although being rewarded with views down to Loch Leven would make all the pushing worthwhile!
The first section of the walk felt very like the day we visited Calais Muir Wood in Dunfermline, probably because both run parallel to the M90 for a short while before turning left away from it. Unlike the other woodland walks I have been on in Fife, at Blairadam I really had the impression of walking deep into the forest and being a million miles from civilisation. It covers a HUGE area (some 3000 acres!), this walk only taking in a tiny speck of it.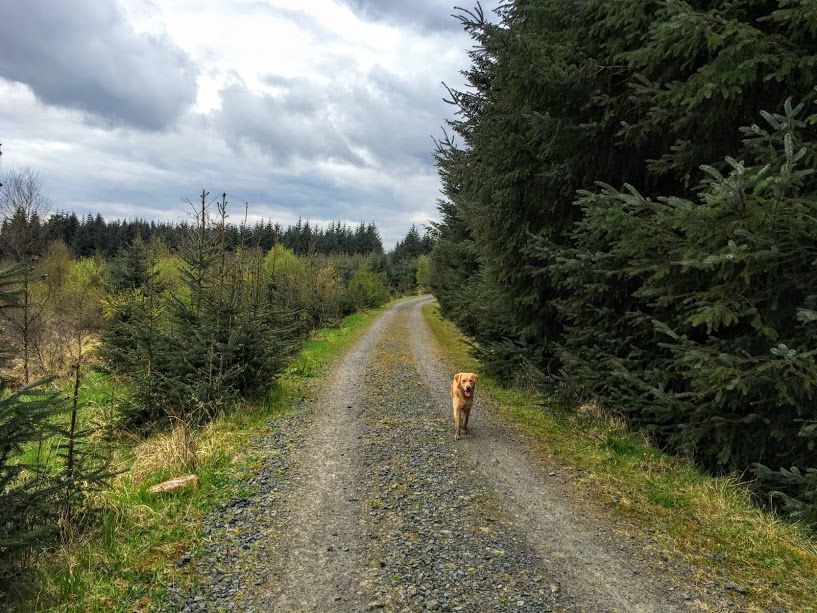 It was just after this section when we were reminded that you can't always rely on maps for planning out routes: the path we were walking on abruptly ended at a tree trunk which had been placed horizontally across the track. I am talking about a wide track such as the one in the above photo!! Beyond the tree trunk…. an area of felled trees which had become overgrown with long grass and shrubs. No way through despite the map clearly showing a road running right through it! We had no choice but to retrace our steps and take a longer route round. It is at times like that when I am so grateful to have my mobile mapping app so that I can see where the other tracks lead to and re-route accordingly. If you aren't currently using a GPS navigation tool then I highly recommend trying one out.
Use this website often? I invite you to support my work through Patreon or by making a one-off donation.